Siemens Financial Services in Poland
Cloud-based financial platforms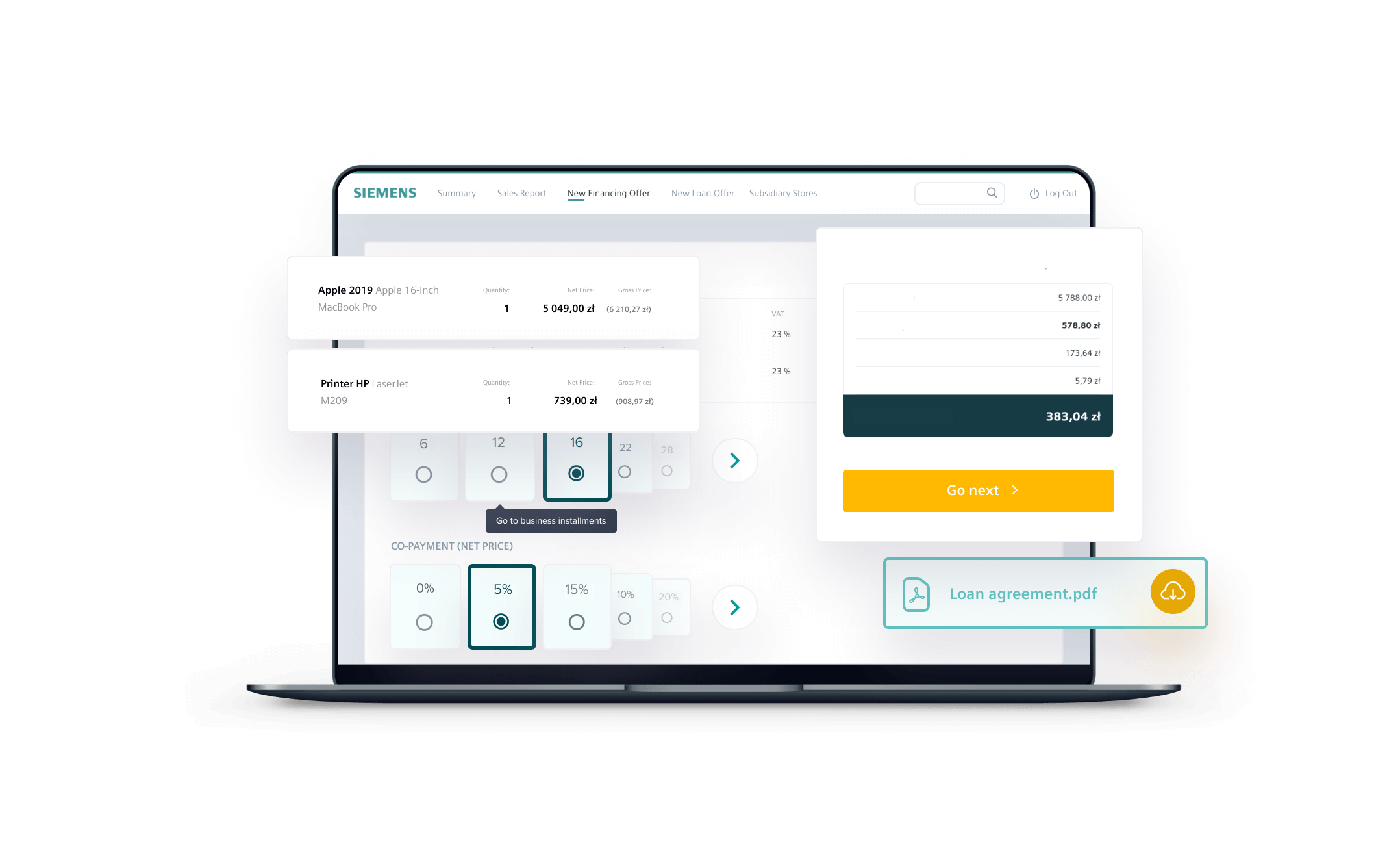 Client

Siemens Financial Services in Poland

Scope of work

Product Design

Software Development

Prototype

Systems Integration
About the Client
Siemens Financial Services (SFS) in Poland, part of the Siemens Group, is a seasoned financial company with more than 20 years of experience in the Polish market. SFS in Poland specializes in financing machinery and equipment for the industrial, medical, and IT & Office sectors. Combining financial expertise, risk management, and deep industry knowledge, Siemens Financial Services in Poland crafts financing solutions tailored to the needs of their business partners and customers. The firm is committed to supporting growth, building value, increasing competitiveness, and facilitating access to new technologies.
History of Cooperation
Our cooperation with SFS in Poland began in 2016. The primary objective was to enhance the customer experience by creating a rapid, secure, and convenient process for their clients. SFS in Poland envisioned an easy financing application process that would take only a couple of minutes, with automatic credit decisions available 24/7. This vision necessitated the development of innovative cloud-based sales products. With our startup-like approach and expertise in rapid prototyping using agile methodologies, Startup House was perfectly equipped to help SFS in Poland realize their customer-centric objectives.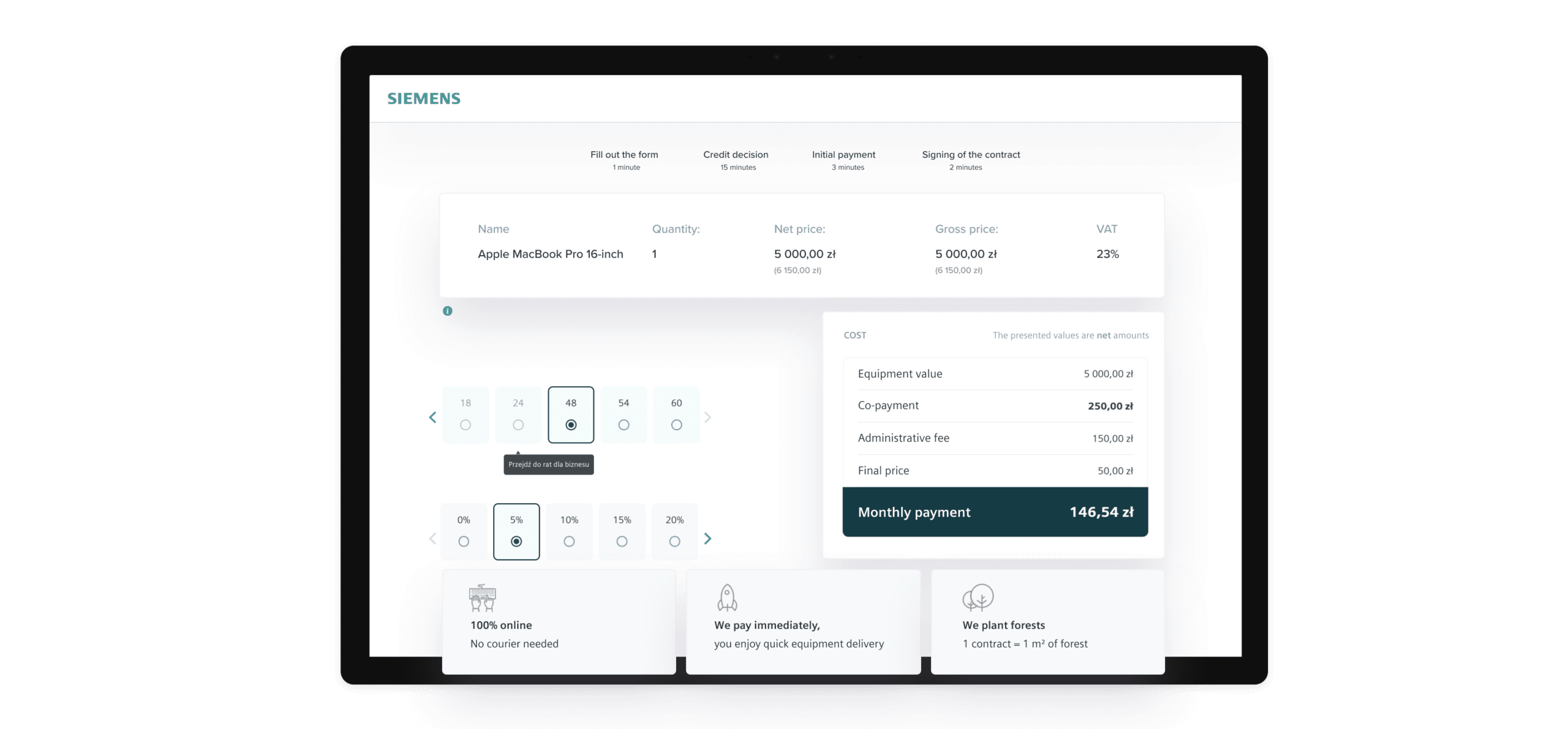 Technical Solutions:

SimplyLease and Others
Our collaboration with SFS in Poland resulted in the creation of three cloud-based products integrated with Siemens' global infrastructure. They were preceded by dozens of prototypes and even more ideas were needed to be tested. The most important product built is called SimplyLease Online. This is a comprehensive cloud-based financial platform. In 2017, Siemens SimplyLease received the Polish E-commerce award for one of the most innovative products of the year.
These products were developed using modern technologies like Ruby on Rails, PostgresSQL, React.js, Preact.js, and TypeScript, ensuring seamless integration with SFS internal systems as well as with external service providers.
Benefits for the End Customer
The introduction of these solutions has brought numerous benefits for end customers:
Speed and Convenience: The financing application process has been significantly accelerated, taking only 2 minutes. Furthermore, an automated credit decision can be received 24/7 within just 7 minutes.
Tailored to Business Needs: The process is customized to meet specific business needs, ensuring the most beneficial financing options.
Sustainability: The digitization of these processes has not only expedited the process but also contributed to paper conservation, in line with SFS in Poland's eco-friendly approach.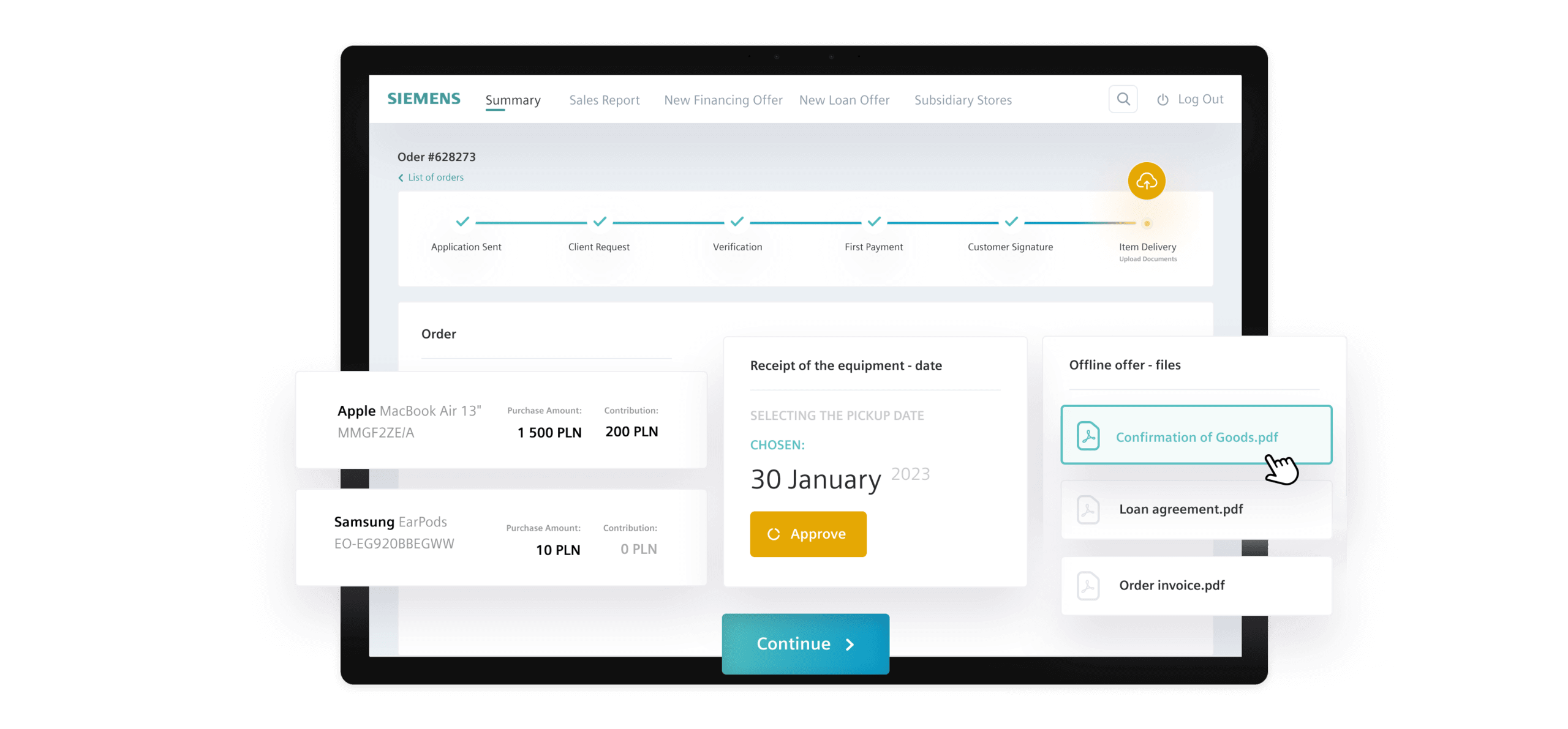 Final Remarks
At Startup House, we prioritize open communication at each step of the development process, using digital tools like Slack, Jira, and Github. We're proud to support Siemens Financial Services in Poland in their endeavors to introduce innovative financial products and meet customer needs. Together, we're making financial solutions more accessible and becoming a part of the only online payment platform dedicated solely to the B2B channel.