Your medical AI assistant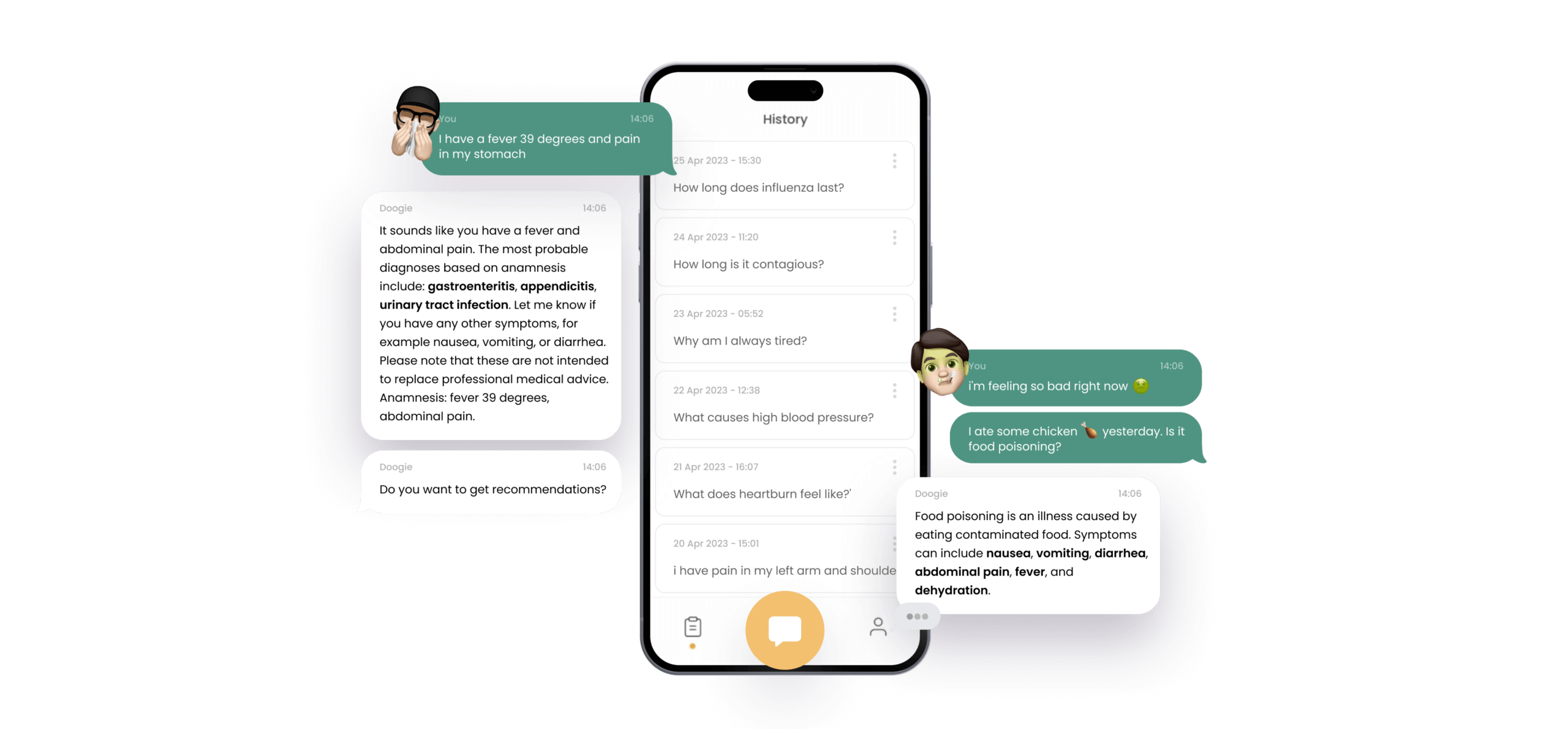 Cooperation dates

February 2023

Scope of work

Product Discovery

Development

Product Design

Research

ChatGPT

Quality Assurance
Doogie - The AI Health Consultant Showcase
Welcome to the world of Startup House, where we're all about flexing our software development muscles and making magic happen! So, when we decided to whip up a mock application to strut our stuff, we knew it had to be jaw-droppingly cool, blazingly fast, and jam-packed with the power of AI. Enter Doogie, the AI health consultant that's more than just a pretty app!
At Startup House, we're wizards in speed, flexibility, and innovation. When we unleashed our Rapid MVP approach on Doogie, we managed to cook up this bad boy in just 2 months! Can you believe it? We harnessed cutting-edge tech like ChatGPT, and our rockstar team worked their magic to create an app that showcases the best of what we've got.
So, fellow tech enthusiasts, feast your eyes on Doogie, the AI-powered health consultant that's turning heads and raising eyebrows. This mock application is the perfect example of what we at Startup House can do when we put our minds to it. Are you ready to get your socks knocked off by our next big thing? Stay tuned, because we're just getting started!
The results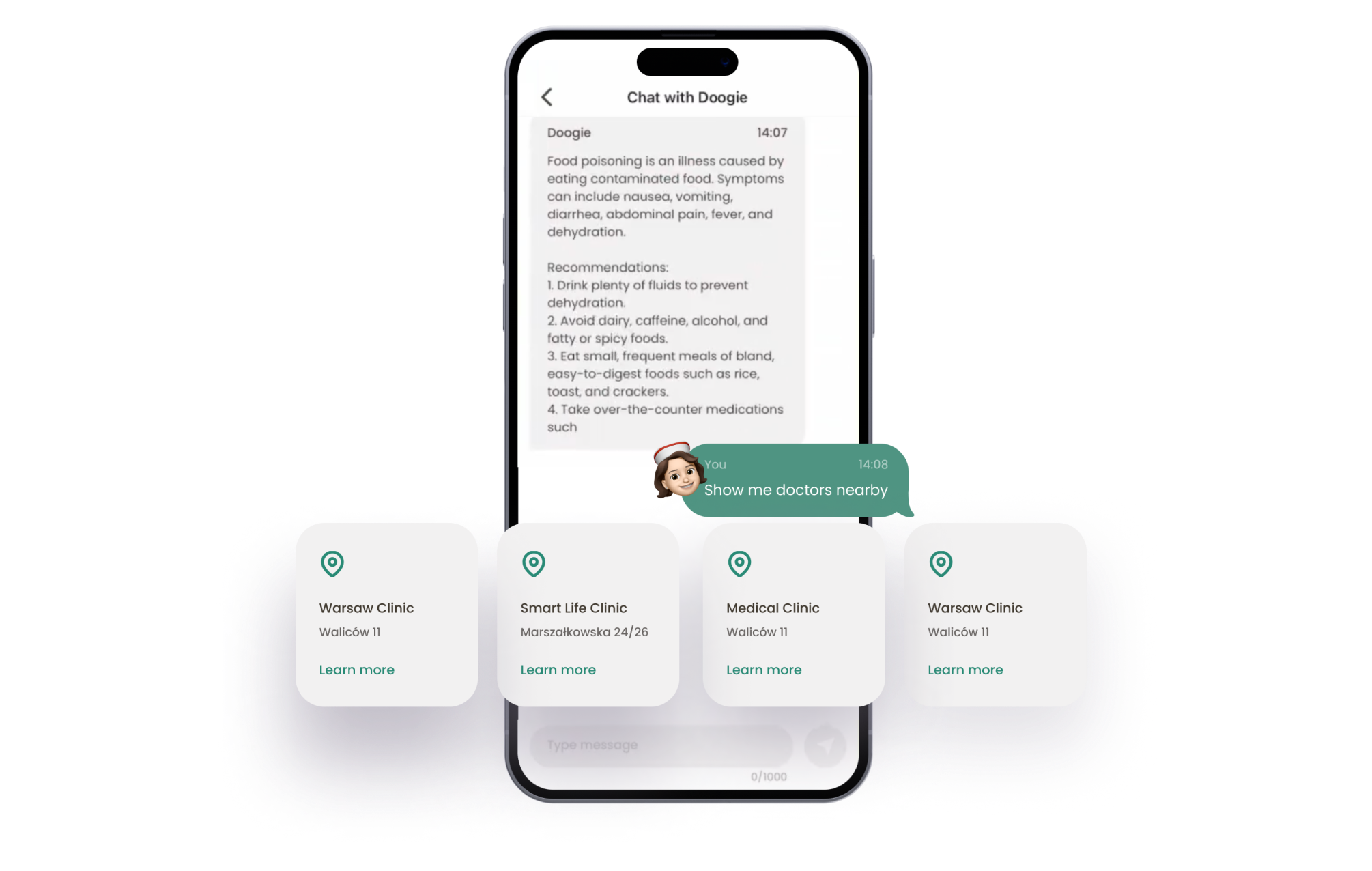 Introduction
Startup House is known for its expertise in creating cutting-edge healthcare solutions, and as an industry leader, we wanted to showcase our capabilities by developing a mock application, Doogie. This AI-powered health consultant app demonstrates our commitment to speed, flexibility, and innovation, as well as our ability to create secure and compliant applications.
Development Process
In just two months, our team employed a Rapid MVP approach to research, design, and implement Doogie. We leveraged ChatGPT, a powerful AI technology, to create an engaging and efficient health consultant app. Our expertise in product discovery, UX/UI design, development, and quality assurance ensured a seamless development process.
Security and Compliance
Understanding the importance of security and compliance in the healthcare industry, Doogie was built to be HIPAA compliant. We incorporated dedicated VPCs, private clusters, traffic encryption, Kubernetes RBAC, and 2FA authentication to ensure data privacy. Our comprehensive auditing system with multiple-year log retention, continuous penetration tests, and configuration scans demonstrates our commitment to security best practices.

Data Storage and Scalability
Doogie's data storage is designed with encryption at rest and in transit, with automated backups and point-in-time recovery. Our cloud-agnostic approach and support for bare metal setups ensure high availability across multiple data centers and flexible auto-scaling setups.
Conclusion
Doogie, our AI-powered health consultant app, serves as a testament to Startup House's ability to create innovative, secure, and compliant healthcare solutions. Although Doogie is a mock application and not available for sale, it demonstrates the potential of our development expertise. If you're interested in building a real-world solution, feel free to connect with us and explore how we can help your startup succeed in the competitive healthcare landscape.